Project description:


The AxeoBIM collaborative platform has been selected for the Seine Nord Europe Canal project by SCSNE (Société Canal Seine Nord Europe) and VNF (Voies Navigables de France).
The Seine Nord Europe Canal project will link the Oise to the Dunkerque-Escaut Canal, from Compiègne to Aubencheul-au-Bac, near Cambrai. In addition, the works will enable the canal to be built to the European Vb gauge, thus allowing it to accommodate 185m x 11.40m convoys with a capacity of up to 200 trucks.


The project, in two words:


The works will include the construction of the canal to European gauge Vb and related infrastructures, namely :
- A reservoir (supplying water to the canal during low water periods)
- Six locks, as well as a lock allowing the junction with the Canal du Nord,
- A set of quays near the multimodal platforms,
- Several service quays (near cereal silos or for industrial activities)
- Pleasure facilities
- 61 road or rail establishments

About sixty bridges along the entire route will allow the canal to be crossed.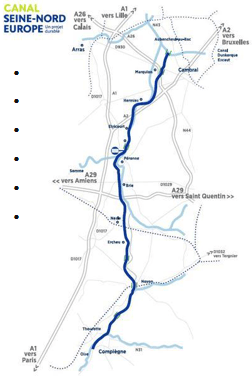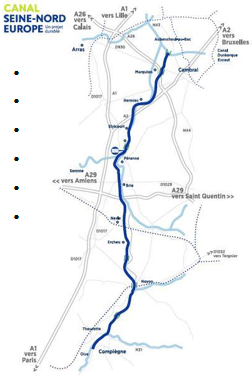 The main stages of the Seine North Europe Canal project :


The construction of the Seine Nord Europe Canal is the first of its kind in France. The various phases of studies correspond to an increasingly precise definition of the geographical perimeter concerned by the project.
The proposed route is the result of an optimisation process based on various criteria: geographical, ecological, human, economic, cost...
Each phase of the Seine North Europe Canal studies is subject to regulatory consultation (public enquiries) and voluntary consultation with the stakeholders concerned by the project, as close as possible to the area (elected representatives, institutional and economic players, associations, citizens, etc.) in order to obtain the final route.
The work includes the construction of the infrastructure (canal, locks, bridges, etc.), environmental improvements and related work (reservoir, re-cultivated material deposits, etc.).
---


Credits :